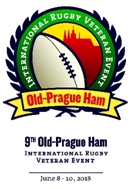 9th OLD-PRAGUE HAM 
INTERNATIONAL RUGBY VETERAN EVENT
June 8 – June 10, 2018
Organizing Committee of Old Golden Prague Veteran Rugby Events has the pleasure to invite you to 9th Old-Prague Ham – International Rugby Veteran Games (hereinafter stated as "Event"), taking place from June 08-10, 2017 in Prague, Czech Republic under the following conditions.
PROGRAMME:
– Friday June 08, 2017 in the evening: Welcome Drink Party of all participating teams
– Saturday June 11, 2017 – the whole day: Games and then After-party …
– Sunday June 12, 2017: Optional Program (Trips) on Request
FORMAT OF THE EVENT:
Age of Players: All players must be of age 35 and/or more. For Platinum Category the minimal age is 50 years.
Number of Teams: As the Event is limited to 12 teams, please, make your registration in a good time.
Rules of the Games: standard XV rugby rules incl. usual veteran modifications (no push in scrums, no kicking outside 22m zone and no lifting in outlines).
ENTRY FEES AND PARTICIPATION PACKAGE PER PERSON:
Czech Republic is the 1st country in the world in consumption of beer! After great success in 2016 and 2017 we again prepared for 2018 something special:
UNLIMITED BEER CONSUMPTION
DURING GAME DAY AND PARTIES !!!
Here you special PARTICIPATION PACKAGE PER PERSON which INCLUDES:
 Participation fee in the tournament
 Accommodation for 3 nights with breakfast, extra nights or less nights possible upon request
 BOARDING – breakfast in the hotel, LUNCH ON THE PITCH ON MATCH DAY – SATURDAY, DINNER IN BOTH PARTIES !
 Grass pitches, changing rooms & showers
 Old-Prague Ham for the winner
 Prize for every team
WE ONLY ACCEPT TEAMS USING OUR PACKAGES !
SPECIAL TAILORMADE PACKAGES UPON REQUEST !